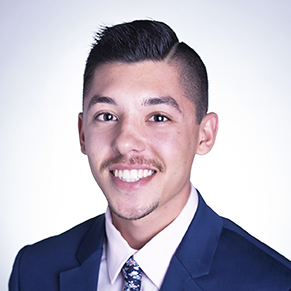 Major:

Biology

Hometown:

Fishers, Indiana

Work Placement:

Hoosier Hills Food Bank

Graduation year:

2020
Though I will never be able to express to Jesse and Beulah how they have completely transformed my life, I aim to carry on the work ethic and passion for helping others exuded and use my resources to improve the lives of others like they improved mine.
Tell us about your work placement experience.
At Hoosier Hills Food Bank, I primarly help spread awareness about our various volunteer programs and how they facilitate our mission to eliminate hunger in south central Indiana to IU organizations, students, and also individuals in the Bloomington community. For those interested in volunteering, I help coordinate scheduling, and I also brief and supervise volunteers during their time at Hoosier Hills. The remainder of my responsibilities consist of performing daily food bank duties in the warehouse and office, as well as working special events such as the Soup Bowl, our Annual Book Fair, and the Hoosier Hysteria Food Drive.
What is something you have learned through your work?
Hoosier Hills has provided me with a position where I am able to glimpse into the lives of those who struggle with food insecurity and poverty, allowing me to gain a very real and valuable new perspective. On the surface, hunger seems like it has such a simple solution, but when you really start to engage in the battle, you learn quickly that it is a very complex struggle that is not easily solved. This has demonstrated to me the necessity of nonprofit organizations, like Hoosier Hills, and also the impact that volunteers can have on someone else's life. It is extremely important to use your resources to assist those who are less fortunate than yourself.
How will being a part of the Cox Scholars Program help you in the future?
Without a doubt, the Cox Scholars Program has greatly enriched my entire college experience on so many levels, one of which is providing me with prearation that is essential for my future career goal of becoming a plastic surgeon. The required characteristics of a physician, such as compassion, work ethic, communication, and respectfulness, are all elements that I feel I have been able to aquire and improve on by interacting with volunteers, staff members, and recipients of services at Hoosier Hills. Additionally, working alongside those who are involved with the Cox Scholars Program and seeing all of the hard work they put into their own goals has further inspired me to work towards my goals in order to positively impact the lives of others.
What is your favorite memory as a Cox Scholar?
My favorite memory as a Cox Scholar was when I had the privilege to attend an IU vs. North Carolina basketball game as a student host in the President's Suite in Assembly Hall. While I was there, I had the pleasure of meeting President McRobbie and his family. Having the chance to experience the special ambiance that fills Assembly Hall from this view is easily a memory that I will never forget.
What do you do outside of the Cox Scholars Program?
I am a member of the Recruitment Committee for Indiana University Dance Marathon (IUDM), which raises money for Riley Hospital for Children in Indianapolis by holding a 36-hour dance marathon each year. I educate students about the organization's efforts and help mentor dancers who are trying to reach their fundraising goals. Outside of schools, I enjoy traveling, going to concerts, art, snowboarding, and forming random, spontaneous plans that always lead to new experiences