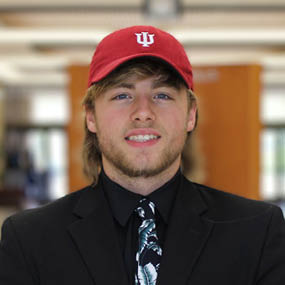 Major:

Biotechnology

Hometown:

Westfield, IN

Work Placement:

Peer Academic Coach, University Division

Graduation year:

2026
Words cannot describe the gratitude I feel for the Cox family and the staff of the Cox Scholars Program! This program has given me the ideal environment to explore my interests, foster my passions, and pursue things that would not be possible otherwise. There is no better community or support system!
Tell us about your work placement experience.
In my role as a Peer Academic Coach (PAC) in University Division, my job is to help guide students through their college experience. This includes helping them explore their interests and potential academics programs, learn about scheduling, study tips and habits, and more!
What is something you have learned through your work?
Through my work I have learned how to effectively budget my time. Ten hours a week is not a crushing amount of work, but it does force me to manage my workload efficiently. I've also learned how to work with my peers to solve problems and how to guide students without taking over the process for them.
How will being a part of the Cox Scholars Program help you in the future?
As a Cox Scholar, I will have a network of supporters and friends for the rest of my life. The resources, connections, and skills that I have developed in the program are priceless resources that I am sure to use for years to come. In addition, this program has allowed me financial freedom to explore my passions—that will put me on a path to a fulfilling future.
What is your favorite memory as a Cox Scholar?
My favorite memory as a Cox Scholar was the trip that we took to the pumpkin patch during the fall of my freshman year. That trip allowed me to get to know the people in the program better and fully get out of my shell.
What do you do outside of the Cox Scholars Program?
I am a member of the Swim Club at IU. I also powerlift, scuba dive, kayak, and hang out with my friends whenever I can!