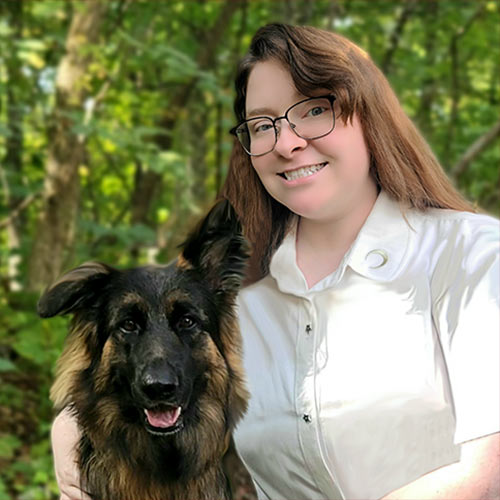 Major:

Animation

Hometown:

Bloomington, IN

Work Placement:

Eskenazi School of Architecture and Design

Graduation year:

2025
I am truly blessed to have been picked to be a Cox Access Scholar. Because of Jesse and Beulah's amazing act of kindness, I have been able to pursue my dreams of inspiring others through my artwork.
Tell us about your work placement experience.
I have had a wonderful work placement experience. All of the faculty that I have met with have been welcoming and helpful in aiding with my scholarship requirements. They are always willing to advise me. I feel like I have learned a lot from the professors on campus.
What is something you have learned through your work?
I have learned that no matter how daunting a task may be, you can always achieve your task with the right guidance and drive. One example is when another painting assistant and I were tasked with building a storage shelf for the painting grad students. I was afraid that I would mess everything up. I never knew how to build anything. Luckily, my new assistant friend was able to reassure me and I was able to help build the shelf, despite not knowing how to use tools or measure things. Now the storage shelf will be there to help many grad students to come.
How will being a part of the Cox Scholars Program help you in the future?
Being a part of the Cox Scholars program has helped me become more confident in social situations. Ben is literally like an angel. I have always been afraid to talk to people because fear regarding my health conditions. But Ben is always the first person to make sure I get introduced to others. Because of that, I have been able to meet with others and lead certain organizations. Without those barriers that held me back before, I know that I can meet and speak to job recruiters and be confident in who I am.
What is your favorite memory as a Cox Scholar?
My favorite memory isn't really one time. I like to say that my favorite memories are anytime I can help others. Because of my gift as a cox scholar, I have been able to help other students with studying, understanding material, and even helping students get across campus when weather is bad. These are the memories that make me feel the most fulfilled. Because I was gifted with the scholarship I can spread Jesse and Beulah's kindness everywhere I go. Without the scholarship, I wouldn't have had the opportunities to help these students.
What do you do outside of the Cox Scholars Program?
Outside of the Cox Scholars Program I was the founder and former president of the Animation Club at IU. Being the founder of the club makes me happy because now students who love animation have a club they can attend to meet like minded individuals who share the same admiration for the art of animation. I am also an acting member of the Eskenazi student council. This position allows me to help the Eskenazi school understand what students experience on campus and how things are working and what can be improved.